Journal Entry:
Sun Aug 3, 2014, 12:55 PM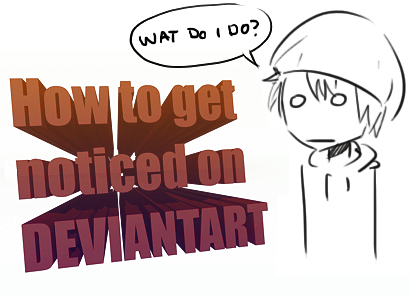 So I occasionally hear people talk about how they rarely get any comments or attention on deviantART which in turn can lead to them seek out other art communities or even get a bit depressed about how their art isn't getting any attention!
Being a part of deviantART for 9 years (since 2006) I might have some tips about how you can get noticed more. Hopefully it can be of help to you but remember that there is one major ingredient you'll need in any case: PATIENCE. This is not a journal about how to get better with art, but it's about how you can become a better community member.
Without further ado, here are some of the steps I can think of right now that might help you become a better deviant:
--------------
1) Being an active member
As with pretty much any community on the internet, deviantART requires you to be an active member in order for more people to notice your existance. Simply uploading your art (even frequently) does not automatically grant you success. You need to browse around and comment on people's pictures and maybe give them some critique that will help others get better. If you are being helpful to others, people will eventually learn to appreciate you. If you gain respect, it's much easier to make people comment on your pictures as well. This is why we very often come across some amazing talented artists on here with a minimal amount of pageviews or favorites; They are not active. Of course, you can be lucky to get a big following even if you don't comment or reply to anyone, but the more you ignore people, the more they'll ignore you. Treating deviantART as a portfolio only is not the way to go. You can use DA's portfolio feature but this is first and foremost an art
community
.
Of course, if you're starting to get noticed more and more, which in turn leaves you with tons of messages all the time.. Then it might be difficult to reply to EVERYONE. Just do your best anyway!
Having friends and contacts is also always important, even on deviantART. If you have friends they might let you know if there are contests going on that you can join where you can get more exposure to more people.
Another great way of being active is to hit the forums of deviantART, although I personally haven't been on the forums at all so I can't vouch for that! But I'm pretty sure they might have contests and stuff there, which might be good for you!
An important thing to note though, is to NOT spam people. What I mean by that is that you should refrain from advertising your art to people who do not know you very well. It is considered to be very rude and it can put you on a lot of people's "This person is annoying"-list!
So in short: Be active and go around giving people input on their art and even just giving compliments to art that you really like! The more places your icon is showing up, the more people will find you. But it takes time! For me it took about 2 years to get going haha
2) Don't blame your watchers
Another very terrible mistake some people do, when they notice they stop getting comments or they feel like they're not getting as much love as they think they decerve, is to make a journal telling their watchers how disappointed they are. This is pretty much you telling your watchers what they SHOULD like, which is - You guessed it - very rude.
Now, there's a few things that might cause your watchers to be less active than before.
1) The majority of your watchers started watching you because of a popular picture you've done. This could be a fanart of some sort, or simply an especially good picture. Now, if these watchers don't see similar art in your gallery they might not really be interested in anything but that picture they watched you for and hope to see more of it. No one is to blame for this - it just happens sometimes! This is why you sometimes get an influx of watchers but you don't really see them being active.
2) You might be trying out a new style of drawing, or simply upload something that is very different from your usual stuff. If you've been uploading art that had a similar style, then that is what your watchers are expecting.
This does not mean that you should not experiment though! It's not about what your watchers think anyway, it's about what YOU want to accomplish with your art. Well, unless you're aiming at pleasing just your watchers. Then I suppose you'll have to revert back to your old stuff... Which is kinda dumb imo! But that's not for me to decide xD
A bad habit I developed over the years was that I knew what gained popularity and what didn't and that lead to me playing it safe with my art and that's
no good
as Sonic would've said.
So yeah, don't blame your watchers; they're not trying to make you feel bad, they just try to find stuff they like! Which is cool yo.
3) Fanart
Now this here can be quite a double edged sword, but at the end of the day fanart is a great way to get more recognition. While you could simply do fanart of famous tv shows, games or animes... It's much more fun and rewarding to do fanart of stuff you really care about personally, even if it's of a fandom that isn't very big. Now, what fanart does to you and your page is that it creates traffic to you through, most importantly, the search engine. If you have done a fanart of Attack on Titan, it will show up for people who searches for said franchise. Not only does this happen on deviantART, but also from search engines like google!
One might say it's like selling your soul to do fanart of famous shows... But it really is one of the absolute best ways to get watchers. When your watch count keep growing, people will eventually get used to your own original art as well and you will get your little fanbase of your own! I remember I was doing a couple of Neon Genesis Evangelion drawings back when I had recently joined the site and it gave me a healthy dose of exposure, which gave me watchers as well!
4) Collaborations
This one is short, but quick and good way of getting a couple more watchers since it will show your existance to more groups of people. If you do a collaboration with one of your art friends it will bring the attention of the friends watchers. A collaboration could be you doing lineart, while your friend colors it for example. Or maybe one of your friends are great at backgrounds - then you could be doing a character to put in one of the friends backgrounds! So not only is it great to get exposure from, but it will get you closer to your friends as well. Man, I'm such a nice guy...

5) Take critique and compliments like a lion
("Like a man" wouldn't be fair to the women!)

If you are afraid of critique, you'll limit your watchers pretty badly, and even get put on that "This person is annoying"-list I mentioned earlier! To accept a fair critique is an insanely important part of becoming a better artist and a better person. Now, sometimes it's difficult to know what the difference between a critique and a "sarcastic smartass"-comment is. But do your absolute best to take the criticism to heart and always try to do better!

Compliments is also a big part of an art community, obviously. If someone compliments your art... For the love of all that is f*cking holy... SAY THANK YOU. There is no need to go all "Ehhh, it's not that good..." or "I hate it!" when people compliments your art. It makes you look like a huge tool. I mean yeah, if you dislike your art, that's your problem! Don't force your own opinions down another persons throat. If you don't like your art, then why show it? To get better? Yeah, that's great! But just don't... Stop people from giving you compliments. You should be worried if all you get is compliments though, then something might be wrong, because like I mentioned earlier - You need critique to become a better artist. You can maybe ask your watchers in the description of the picture to give their honest opinion on a piece of art.

I have no idea if above text made any sense.

---------


But yeah, that's about it! If you guys have any more points you'd like to give people about how they can become better, feel free to give your thoughts in the comments!
Random art: